Fishing Bahamas | Hawk's Nest Resort & Marina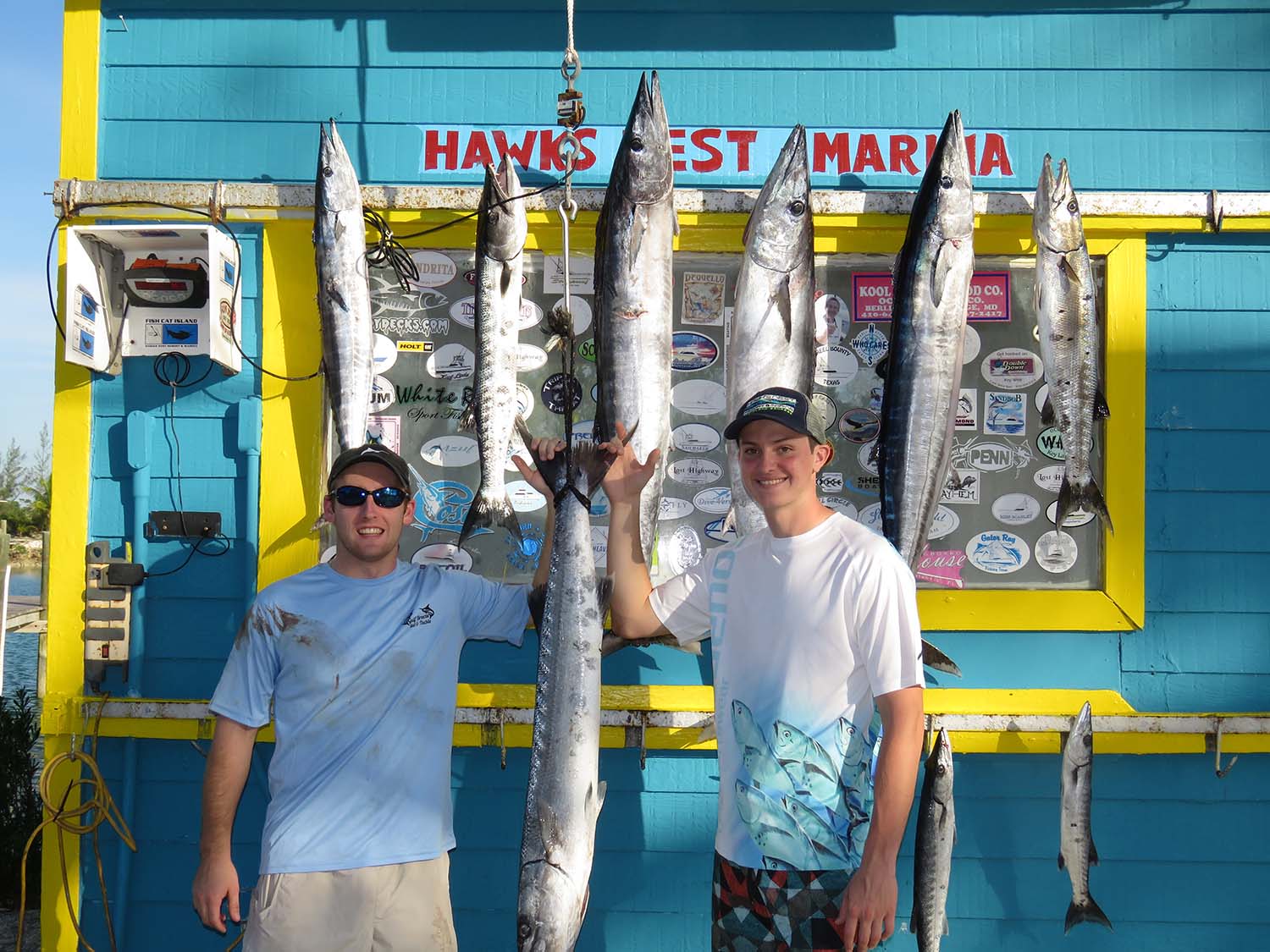 There are no fishing tournaments dates set at this time.
2019 TOURNAMENT RESULTS
14th Annual Wahoo Championship
1st Place Predator
2nd Place Emme Lou
3rd Place Traveler
Biggest Wahoo Predator 68.5lbs
8th Annual Hang Em High Results
1st Place TWO CATS 89.2
2nd Place PREDATOR 86.1
3rd Place AMERICAN BEAUTY
CALCUTTA'S
Day 1 Predator 65.4
Day 2 Karma 77.9
Day 3 Two Cats 46.2
Dolphin 20.2lbs American Beauty
Tuna 36.5 lbs Karma
Wahoo 82.9 Jerry Newcomer/Cow Hunter
Biggest Pelagic Overall 65.4 Wahoo Predator
5th Annual White Marlin Smackdown Results
13 Whites/4 Blues/ 9 Sails in all Released.
1st LOW PROFILE 1700pts
2nd BIG OIL 1450pts
3rd FIRE FLY 900pts
Dolphin 52.8lbs Low Profile
Tuna 12.5lbs Karma
2017 Tournament Results!
2017 Wahoo Championship
1st Place Raken N Scrape 354.2lbs
2nd Place Karma 294.5lbs
3rd Place Grace 232.4lbs
4th Place Wobbly Boots 221.70
Calcuttas:
Day 1: Big Fish 97.9lbs Plum Krazy
Daily: 168lbs Two Cats
Day 2: Big Fish 104.7lbs Rake N Scrape
Daily: 251lbs Rake N Scrape
Day 3: Big Fish 90.9lbs Grace
Daily: 274.10 Karma
Dolphin 34.9lbs Money Shot
Tuna 28lbs Two Cats
2017 Hang Em High
Hang Em High Results: Dolphin 38.4 Mojito
Wahoo 105.9 Exile /Tuna 50.0 American Beauty
Daily Winners went to American Beauty/Exile/Wobbly Boot & Grace
1st Place Exile 132.6
2nd Place American Beauty 119.5
3rd Place Wobbly Boot 107.3
2017 White Marlin Smackdown
3rd Annual White Marlin Smackdown Results
1st Exile 1950pts
2nd Rebaits 1200pts
3rd Karma 800pts
Mahi Exile 36.1
Tuna 33.6 Living The Experience
Day 1 SandBob
Day 2 Rebaits
Day 3 Exile
2017 Billfish Blast
1st Place BLUE VIEW 2000pts
2nd Place PREDATOR 2000pts
3rd Place Huzzy 1950 puts
Calcutta's.
Blue Marlin 1800pts
Dolphin 38.7lbs Wobbly Boot
Tuna 28.3lbs Karma
Wahoo 20.7 Fire Fly
Day 1 Huzzy
Day 2 Blue View
Day 3 Sandrita
2016 TOURNAMENT RESULTS!
RESULTS 12th Annual Wahoo Championship:
1st Place Karma 237.0 pts
2nd Place Fishin A Loan 229.8 pts
3rd Place White Rat 193 pts
4th Place Mjoinir 173.3 pts
5th Place Two Cats Too 163.4 pts
6th Place Plum Krazy 159.6 pts
RESULTS: 5TH HANG EM HIGH CHALLENGE
1ST: KARMA 147.2LBS
2ND: RAKE N SCRAPE 138.3LBS
3RD:TWO CATS 131.8LBS
DAY 1: RAKE N SCRAPE, DAY 2: TWO CATS
DAY 3: KARMA
DOLPHIN: MOJITO 36.8LBS
WAHOO: RAKE N SCRAPE 94.6LBS
TUNA: TWO CATS 40.0LBS
Results: 2ND ANNUAL WHITE MARLIN SMACKDOWN
Over Under 1st Place 11sails, 2blues, 1white
Two Cats 2nd Place 2whites 3sails
Big Oil 3rd Place: 1white &1sail
CALCUTTAS: WAHOO 62LBS TWO CATS, DOLPHIN 33.2LBS OVER UNDER, TUNA 45.6LBS BIG OIL!
2015 TOURNAMENT RESULTS!
10TH ANNUAL WAHOO CHAMPIONSHIP—RESULTS
FISHIN A LOAN 319.7 LBS OF WAHOO
(HONORABLE 88.1 YELLOW FIN TUNA)
PREDATOR 222.8 LBS
PLUM CRAZY 217.0 LBS
CALCUTTA'S:
BIGGEST FISH: FISHIN A LOAN 99.6LBS
DOLPHIN: 21.3LBS
TUNA: 8.9LBS
WOW! EVERYONE MADE SOME GREAT CATCHES! ALL BOATS PUT POINTS ON THE BOARD. OVER 2500 POUNDS OF WAHOO CAUGHT!
Email J.R. for further Calcutta Details: [email protected]
4TH ANNUAL HANG EM HIGH CHALLENGE RESULTS:
1st Place Two Cats 123pts 2nd Place Fire Fly 84.1pts 3rd Place Two Cats Too 83pts. Daily's went to all three above. Dolphin 32.4 Fire Fly, Tuna 29.9 Two Cats, Wahoo 70.7 Two Cats Too! Congrats!!!!
A WHITE MARLIN SMACKDOWN results—1st Annual White Marlin Smackdown. Results BIG OIL 5 whites & 1 blue Over Under 3 whites, 1 blue, 1 sail Fire Fly 2 whites & 1 sail TOTAL FISH RELEASED: 12 WHITES 4 BLUES & 2 SAILS B/W FIVE BOATS AND THREE DAYS OF FISHING.
15TH ANNUAL BILLFISH BLAST results
MOJITO & ANITA JEAN BOTH WITH A GRAND SLAM
16 BLUES/13 WHITES/8 SAILS
Great Escape 3000pts
Living The Experience 2400pts
Man E War 1400pts
Reel Acquisition 1400pts
Anita Jean 1300pts
Mojito 950pts
Signed Out 750
Over Under 650
Saramar 600
Rebaits 600
Karma 550
Calcutta: Small fish big $: Argo with the Tuna & Signed Out with the Wahoo. L.T.E with a 48lb Dolphin.
FOR RULES AND REGULATIONS EMAIL OUR OFFICE [email protected] for more information. We are extremely excited about making the 2016 fishing season an extrodinary experience for ALL!
2014 TOURNAMENT RESULTS!
14TH Annual Billfish Blast Results 1st Place Man e War 3000pts 2nd Place Great Escape 2100pts 3rd Place Over Under 850pts So What 42.1 Mahi (11k) & 49.5 Tuna(8k) Calcutta Rebaits 12lb (4k) wahoo Daily's went to Man E War, Great Escape & Whatever (3
9TH ANNUAL WAHOO CHAMPIONSHIP
One of the most exciting tournaments. As tradition holds the biggest fish of the season was caught on the last day of the tourney. 80.6lbs by Predator. RESULTS: 1ST PLACE PREDATOR 2ND PLACE TWO CATS TOO 3RD PLACE FISHIN A LOAN TUNA CALCUTTA PERFECT 10 34.1LBS MAHI CALCUTTA ICEMAN 37.6LBS
3RD ANNUAL HANG EM HIGH RESULTS
Hang Em High Challenge: Remember this tournament is the cumulative weight of only three pelagic fish. A Tuna, Dolphin & Wahoo. Results: 1st Place Predator 123.4lbs 2nd Place Two Cats 101.3lbs 3rd Place So What 89.2lbs Calcutta's Biggest Fish 50.7 Wahoo Predator Daily's Predator, Two Cats and Two Cats So What had the biggest Tuna 26.7lb Two Cats had the biggest Wahoo 50lbs & Dolphin 40.0lbs Not Huge Fish this tourney, but there sure was an abundance being brought back to the docks.